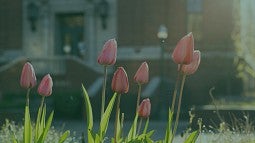 Welcome to the
Accessible Education Center!
Support. Inclusion. Respect.
Summer Teaching Institute & the "Access for All" topical pathway: Applications due May 23rd
The UO Summer Teaching Institute is a banner event sponsored by the Office of the Provost and hosted by the Teaching Engagement Program and UO Online that convenes UO faculty for an intensive, multi-day focus on teaching. It brings faculty together from all UO's schools and colleges for inspiration, collegial connection, and the design of new courses and teaching materials. Faculty participate in specialized topical pathways, engage with online resources, and select from a lineup of workshops and presentations that bring UO's teaching community together around emerging topics. This year's event is from July 11-15. 
Pathway Description: Access for All: UDL, Usability, & Inclusive Design  
This pathway explores practices that create more accessible and inclusive classes for all students, particularly students with disabilities and/or neurodivergent students. Learn about and put into practice the principles of Universal Design for Learning (UDL), Inclusive Design (ID), and web accessibility. We'll also examine and contextualize the pressing need for greater accessibility in higher education generally and for students at UO specifically. Participants will analyze barriers to accessibility in their own courses and select and enact strategies to remove those barriers.
Find out more about the Summer Teaching Institute and the "Access for All" pathway by visiting our Summer Teaching Institute webpage. Submit a brief Qualtrics application by May 23rd.
Working With AEC
Learn more about what we do and who we work with,
as well as what you can expect during an advising appointment.
AEC YouTube Playlist
Highlighting Engagement
 
---
Accessible Education Center paves the way for students
FACULTY EXCELLENCE  AWARD
Faculty Excellence in Universal Design Award
ACCESSIBILITY ALLY PROGRAM
Accessibility Ally Program at the AEC
Accessibility at the University of Oregon
The AEC is dedicated to facilitating and supporting accessible education through access and full inclusion of students with disabilities into the university environment. This is accomplished through effective collaborations/consultations with faculty/staff, proactive advising, and the fostering of systemic campus change. The AEC works to create and sustain physical, curricular, and informational environments that are informed by and responsive to the diverse characteristics and experiences of students with disabilities and variations of ability.
Connect with us!
We are here for you! Chat with us on Teams, email uoaec@uoregon.edu, or call 541-346-1155.