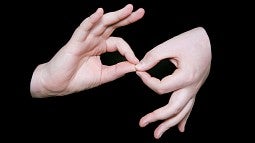 Sign language interpreting is available for academic classes and class-related activities, extracurricular activities, and university events both on and off campus. Requests for sign language interpreting may be submitted by current and prospective students, university personnel, event coordinators, and community members attending a university event. In most cases programs and departments are responsible for the cost of interpreting.
Request Sign Language Interpreting for a Campus-Wide Event
Students Requesting Sign Language Interpreting
The AEC provides sign language interpreting for students whose primary language is American Sign Language (ASL). 
To request sign language interpreting through the AEC, please follow these steps:
Meet with an Access Advisor to receive a referral to the Sign Language Interpreting Coordinator.

Provide your class schedule to the interpreting coordinator through email or AEC Connect as soon as you have registered for classes. Late requests may result in a delay in interpreting services.

Requests for services beyond regular classroom hours (extracurricular) must be made ten working days in advance.
Sign Language Interpreting Coordinator
Phone: 541-346-1061
Policies for Interpreting Services
Priority for accommodating service requests are as follows:
Lecture/Lab/Discussion sections for course

Activities outside of classroom that are required for the course

Student/Professor meetings

University-sponsored extracurricular event
If you know you are going to miss class, notify the interpreting coordinator as soon as possible that you will not need scheduled interpreting services. The coordinator should receive notice at least one business day in advance when you are planning to miss a class.
If you miss a class without notifying the coordinator in advance, the absence will be considered a 'no-show'. After three 'no-shows' in any one class, your interpreting service will be suspended for that class. Students must then make an appointment with Hilary Gerdes, AEC Senior Director, to discuss reinstatement of accommodations.
The interpreter will wait 15 minutes for a class or other requests scheduled less than one hour. The interpreter will wait 30 minutes for classes or other requests scheduled for more than one hour. Students arriving after these times will be recorded as a no-show.
If an interpreter does not show up for a scheduled class, contact the interpreting coordinator as soon as possible. If possible, a replacement will be sent.
Tips for Communicating with D/deaf People When Using an Interpreter