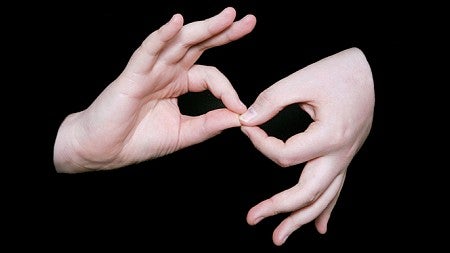 Sign language interpreting is available for academic classes and class-related activities, extracurricular activities, and university events both on and off campus. Requests for sign language interpreting may be submitted by current and prospective students, university personnel, event coordinators, and community members attending a university event. In most cases programs and departments are responsible for the cost of interpreting.
Request Sign Language Interpreters
Policies for Interpreting Services
Priority for accommodating service requests are as follows:
Lecture/Lab/Discussion sections for course
Activities outside of classroom that are required for the course
Student/Professor meetings
University-sponsored extracurricular event
Students Requesting Sign Language Interpreting
The AEC provides sign language interpreting for students whose primary language is American Sign Language (ASL). To request sign language interpreting through the AEC, please follow these steps:
Meet with an Access Advisor to receive a referral to the Sign Language Interpreting Coordinator.
Provide your class schedule to the interpreting coordinator through email or AEC Connect as soon as you have registered for classes. Late requests may result in a delay in interpreting services.
Requests for services beyond regular classroom hours (extracurricular) must be made ten working days in advance.
If you know you are going to miss class, notify the interpreting coordinator as soon as possible that you will not need scheduled interpreting services. The coordinator should receive notice at least one business day in advance when you are planning to miss a class.
If you are running late, the interpreter(s) will wait 15 minutes after a class or other scheduled event start time. If you know you will be running later than 15 minutes, contact the interpreter coordinator and they will inform the interpreter(s) to wait until you arrive. The interpreter(s) will be dismissed after the designated wait time if the student doesn't indicate they will be attending or doesn't show.
If an interpreter does not show up for a scheduled class, contact the interpreting coordinator as soon as possible. If possible, a replacement will be sent.
Event Requests for Sign Language Interpreting
The AEC can provide sign language interpreting for campus events for attendees whose primary language is American Sign Language (ASL). To request sign language interpreting through the AEC, please follow these steps:
Click on the Request Sign Language Interpreters button above.
Create an account if necessary.
Enter in all fields as much as possible.
An index number will be needed to bill back for services if you are a department on campus. If you are a community member requesting interpreting services for a UO event, leave blank.
In the Notes section, please include a link to additional information, if possible, indicate if the event is for general accessibility or if an attendee has requested interpreters, and the names of the attendees who have requested interpreting services.
Submitting a request does not guarantee placement of interpreters. Events who have attendees who use interpreting services will be prioritized over events requesting interpreters for general accessibility.
The interpreter coordinator will reach out to the contact email provided to gather more information, such as any presentation materials, agendas, speeches, etc. This is to aid in the interpreters' preparation. More prep materials may aid in the acquisition of interpreters.
Events over an hour in length will have two interpreters assigned. The cost of interpreting services will be billed back to the index number provided. Events that go over the designated end time will be billed in 15 minute increments.
Sign Language Interpreting Coordinator
Email: aecinterp@uoregon.edu
Phone: 541-346-1162