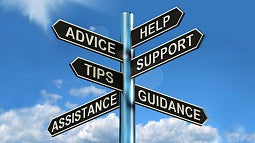 New and Prospective Students
Getting Admitted
Information about admission to the University of Oregon and application materials can be found at the Office of Admissions, located on the second floor of Oregon Hall. They can also be reached by phone at 1-800-BE-A-DUCK.
Alternate Admission Process
In exceptional cases, students who would otherwise not be admissable, may be offered admission by the Disability Review Committee, based on a documented disability and the impact on a student's academic record. The University of Oregon admissions application includes an option to include a special circumstances statement. Here you can choose to explain any circumstances that may have influenced your academic performance, for example: serious illness, diagnosed disability, or family circumstances. If you are invited to apply through the disability review process you will be asked to provide detailed and current documentation of disability, two letters evaluating academic work, and a graded writing sample. This process is coordinated by the Office of Admissions.
Housing Accommodations
The Accessible Education Center (AEC) determines disability accommodations for campus housing, including exemptions to the live on requirement. 
All students requesting housing accommodations are encouraged to schedule a brief appointment with an AEC advisor (in-person or by phone appointment) to discuss the nature of their housing request and learn about specific documentation requirements.  Each request is treated on a case-by-case basis and will be reviewed by a committee after all materials have been received. AEC encourages students to submit their housing accommodation requests as soon as possible after applying for Housing.
The housing accommodation request process is separate from academic accommodations, and is typically discussed at IntroDUCKtion for students entering in the Fall term.  Preferences for room locations and room types can be indicated on the standard housing registration form and are not reviewed through the disability accommodation process. Non-disability requests including preferences based on health considerations should be made on the Housing registration.
AEC at IntroDUCKtion
At IntroDUCKtion you will have an opportunity to attend the Accessible Education Center informational session. At these orientation sessions you will learn how the AEC helps support your academic goals and how to best utilize these resources. These sessions are geared toward answering both student and parent questions. Please refer to your IntroDUCKtion schedule for the time and location of informational sessions. After the group session you will be able to meet individually with an AEC advisor to begin the process of discussing your specific situation and reviewing your documentation.
AEC Orientation
During other times of the year AEC Orientation sessions are offered by appointment and at the beginning of each academic term.
If you are a transfer student admitted for the fall term, you can contact the AEC directly to arrange an appointment. Students admitted for winter, spring, and summer terms can schedule individual appointments at any time. At the beginning of each term there is a brief overview session that can be useful to attend in addition to having an individual meeting.
Transition to College
There are many differences between high school and college. The more you are aware of these differences, as well as the differences and similarities between specific colleges, the better prepared you will be to make a good choice about what institution is the best match for you. For more information visit the resources below.