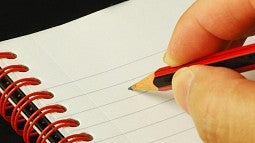 Students experience barriers when taking notes for a variety of reasons. There are several relatively simple means that are widely used to accommodate notetaking needs, such as the use of recording devices. These are very effective tools and in many cases are preferable to more traditional notetaking support. In cases where the available technology and resources are not effective or desired, peer notetakers, computer-based notetakers, or other options are considered. Please
schedule an appointment with an AEC advisor
to discuss possible resources.
Notetaking Resources
Glean
Glean is a browser-based app that can be used online or offline to record and annotate audio recordings, either while you're participating the first time or when you are listening back. Glean allows the user to pinpoint important parts of lecture to review.
Check out this video for information on using Glean:
Livescribe™ Smartpen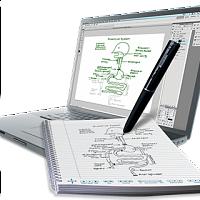 A smartpen records audio and copies a visual image of your written notes. The audio and visual notes are synced together and saved to a computer for convenient playback of the lecture. If you are approved for the use of a smartpen, AEC can provide financial assistance for the purchase of the device.
To learn more about using a smartpen, visit the Livescribe site.
Print your own Livescribe dot paper for free!
Note Taking Express
Note Taking Express is a web-based notetaking platform that provides written notes to students from audio or video recordings that they upload. All notetakers are experts in the subject field and the turnaround time for notes is 48 hours. Students are able to organize their notes on the platform, and can upload other files and materials to be incorporated into the notes if they wish.​
Meet with an AEC advisor to establish which type of notetaking support best accommodates your needs. 
Peer Notetaker
If technology does not provide an effective solution, a peer notetaker may be appropriate. A peer notetaker is a student enrolled in the class who volunteers to share their notes.
If you've already established peer notetaking accommodations with an AEC advisor, and believe that you will need this accommodation, follow these steps to request notetaking for your classes.
Log in to AEC Connect to request accommodations for each of your classes. Select "Notetaking Services" for each class for which you'd like to receive notes.
After you've attended each class at least once, check your @uoregon.edu email address for an email from AEC asking you to confirm your notetaking request.
After a notetaker has been recruited and begins to upload notes, you will receive an email stating that notes are available to download from AEC Connect.
To download your notes, log in to AEC Connect and click "Notetaking Services" on the left side of the page under "My Accommodations". Then click "Available Note(s) for Download (Click to Expand)".
AEC may contact your instructor to find out more information on the structure of your course and may cancel your request if your course lecture material is available asynchronously. If you find that you still need a peer notetaker for a notetaking request that is canceled, please email aecnotetaking@uoregon.edu.
Once a peer notetaker has been identified and assigned, it is the student's responsibility to notify AEC immediately if issues arise--such as inadequate, inaccessible, or inconsistently uploaded notes.
Questions about peer notetaking? Contact aecnotetaking@uoregon.edu.