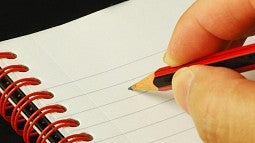 Students experience barriers when taking notes for a variety of reasons. There are several relatively simple means that are widely used to accommodate notetaking needs, such as the use of recording devices. Technology-assisted notetaking tools can mitigate many common disability-related barriers to notetaking. In cases where the available technology and resources are not effective, peer notetakers or other options are considered. Please schedule an appointment with an AEC advisor to discuss possible resources.
Notetaking Resources
Glean
Glean is a browser-based app that can be used online or offline to record and annotate audio recordings, either while you're participating the first time or when you are listening back. Glean allows the user to pinpoint important parts of lecture to review.
Check out this video for information on using Glean:
Livescribe™ Smartpen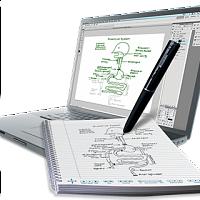 A smartpen records audio and copies a visual image of your written notes. The audio and visual notes are synced together and saved to a computer for convenient playback of the lecture. If you are approved for the use of a smartpen, AEC can provide financial assistance for the purchase of the device.
To learn more about using a smartpen, visit the Livescribe site.
Print your own Livescribe dot paper for free!
Peer Notetaker
If technology does not provide an effective solution, a peer notetaker may be appropriate. A peer notetaker is a student enrolled in the class who volunteers to share their notes.
If you've already established peer notetaking accommodations with an AEC advisor, and believe that you will need this accommodation, follow these steps to request notetaking for your classes.
Log in to AEC Connect to request accommodations for each of your classes. Select "Notetaking Services" for each class for which you'd like to receive notes.
After you've attended each class at least once, check your @uoregon.edu email address for an email from AEC asking you to confirm your notetaking request.
After a notetaker has been recruited and begins to upload notes, you will receive an email stating that notes are available to download from AEC Connect.
To download your notes, log in to AEC Connect and click "Notetaking Services" on the left side of the page under "My Accommodations". Then click "Available Note(s) for Download (Click to Expand)".
AEC may contact your instructor to find out more information on the structure of your course and may cancel your request if your course lecture material is available asynchronously. If you find that you still need a peer notetaker for a notetaking request that is canceled, please email aecnotetaking@uoregon.edu.
Once a peer notetaker has been identified and assigned, it is the student's responsibility to notify AEC immediately if issues arise--such as inadequate, inaccessible, or inconsistently uploaded notes.
Questions about peer notetaking? Contact aecnotetaking@uoregon.edu.
Students who experience disability-related barriers taking notes may be approved for a variety of accommodations to mitigate those barriers. If you are approved to record lectures as a reasonable accommodation, we encourage you to familiarize yourself with applicable policies and tips for getting the most out of your recordings. 
Policies
Before recording lectures, ensure that your instructor has received your notification letters indicating "permission to record lectures" as an accommodation. 
In order to record lectures and related class activities as an accommodation, students are required to review and sign the following agreement in AEC Connect:
The recordings or transcriptions will be used for my personal studies only.

I will not release, post, share, sell, or otherwise make available the recordings/transcriptions in any format to any other persons.

If other students or speakers are sharing personal information that would be inappropriate to record, I will be prepared to pause the recording occasionally upon request.

I will not publish or quote information contained in the recordings/transcriptions without express written consent of the speaker.

I understand that a violation of this agreement may result in discipline through the student conduct process and/or liability under copyright laws.
Best Practices for Lectures
Seating:

Sit near the front of the class, close to the instructor. Try to avoid being near background noises such as projectors and students who are typing. 

Active Participation:

It is important that students take an active part in class and use recordings to clarify material or catch any missed information.

Include Images:

Include pictures and lecture slides alongside your recordings when possible. 

Review Recordings:

The best time to review recordings (and notes) is within 24 hours of the lecture. Add to your notes and pause to reflect on material. 
Improving Quality of Recordings
Try it out: Practice with your voice to see the distance you will need to be from the lecturer, include some background noise if possible.
Mobile phones: Prop up phones for better sound quality. Placing a recording device on a soft surface, instead of directly on the desk, can also help improve sound.
External microphones: Directional microphones can help ensure audio files are clear and focused on the instructor. 
Adjustments: Most audio notetaking programs and computers have built-in options to improve quality of recordings.
Airplane mode: Avoid distractions and disruptions and save on battery life. If using a mobile phone, try putting it in airplane mode. 
3-D recording headphones: Designed to capture sound like you actually hear it, these headphones have built in microphones on the earpieces but can be worn over your shoulders.